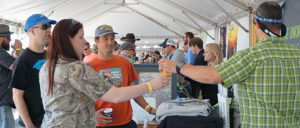 After over 80 years of what many consider to be Prohibition-era alcohol laws in North Carolina, legislators are now proposing some significant changes to the system.
Over the past few months, several bills have been filled in the NC House and Senate that, if passed, would alter how, when, and where alcohol and alcohol-related merchandise can be sold.
So far in 2019, new alcohol-related bills include; the Craft Beer Distribution & Modernization Act (Senate Bill 246), the ABC Laws Modernization/PED Study (Senate Bill 87 and House Bill 91), the ABC Regulation and Reform (Senate Bill 11), the ABC Omnibus Regulatory Reform (House Bill 536), the Distiller Regulatory Reform Bill (House Bill 378 and Senate Bill 290), the Allow Common Area Entertainment ABC Permit (Senate Bill 344), the ABC/Univ Athletic Facility (House Bill 389), and Allow Game Nights (House Bill 130).
The new bills, among other things, include the following changes;
Allowing liquor to be sold on Sundays
Allowing public universities to sell alcohol at stadiums and arenas on school property
Allowing NC distillers to sell directly to the public in other states
Removing the 5-bottles-per-year limit for NC distillery visitors
Allowing free liquor tastings in state-run ABC stores
Establishing the Alcohol Law Enforcement as a separate division
Allowing brewers to sell beer and merchandise at farmers markets
Increasing the number of barrels that small craft brewers can self-distribute from 25,000 per year to 50,000 per year
Allowing the consumption of alcohol at non-profit 'game nights'
Allowing bar or restaurant patrons to consume an 'open container' while walking around a shopping mall
If you feel strongly for or against any of these proposed changes, be sure to call your state representatives and tell them how you feel. If you are having problems with alcohol, Soberlink's alcohol monitoring systems can help you keep accountable as well.
What are your thoughts about all the new bills?
Comments
comments