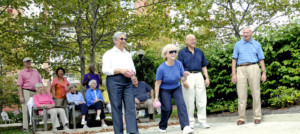 Charlotte region has always been an attractive destination for retirees and others who are shifting here to come closer to their family, children, and grandchildren. Charlotte is known to be an approachable city that seems to be a combination of affordability, cost-effective living, and a favorable climate. This place is culturally very active with state-of-the-art facilities. Charlotte boasts of some of the popular league sports teams. This has become the hub of high-quality senior living projects. You would enjoy amazing benefits if you are living in Charlotte. You could enjoy a good climate neither too hot nor too cold. 
Charlotte happens to be truly an airline hub. You could fly here from anywhere in the world and you could fly to whatever place you wish to go to. Charlotte is famous for its easy access to numerous top healthcare systems. People in Charlotte take immense pride in their sports, culture, beaches, mountains, and almost no traffic congestion. The point is Charlotte is an ideal place for seniors to spend the rest of their life in the utmost peace and happiness. However, retirement and aging often present some challenges. When you are switching from leading a strictly scheduled lifestyle to enjoying endless time to relax and rejoice, you could feel lost and there could be a dip in the quality of life in general.
As per https://www.forbes.com, there has been an unprecedented increase in the percentage of elderly population worldwide especially in growing economies like China, Japan, and Europe. In the United States, 14.5 percent of the entire population is supposed to be 65 years of age or even older. Moreover, by 2030, the current number is expected to go up to 20 percent. 
Seniors face a lot of challenges as they grow older. However, a positive approach towards life could be useful in alleviating certain medical issues encountered by seniors like stress, cognitive decline, lack of appetite and energy. Here are some effective ways of boosting the general quality of life of seniors in Charlotte.
Encourage Seniors to Stay Physically Active
It could be tough to stay physically active, however, it is essential to preserve and improve overall health and well-being. Regular physical activity is connected with several health advantages including prevention of heart disease and stroke. There are several effective ways of staying active, you simply need to choose whatever activity you are passionate about or are interested in. In case of any physical fitness issues get in touch with one of the reputed "Demaine Chiropractic & Rehab Centers"
Give Top Priority to Mentally Engaging Activity 
Often elderly people focus their attention on solely physical health issues but you simply cannot overlook mental health and emotional stability. It is of vital importance to indulge in everyday activities known for fostering their mental stimulation. A wonderful and easy way of indulging in mental; activity would include Crossword Puzzles, Trivia, and Sudoku. These activities seem to be great and effective for boosting overall health and boost overall cognitive functions.
Stay Very Much Connected to Family 
Everybody needs robust relationships for leading a healthy and happy life. Seniors living alone often get disconnected from their families and peer groups. For combating this situation, you must schedule regular outings and visits that could prove to be immensely beneficial. If you make an effort to devote more time with your filmy and close friends, it would prove to be magical for your physical and emotional well-being.
Constant Monitoring of Depression
Millions of elderly people who are 65 ads above suffer from depression. This could be triggered by a loss of spouse, retirement, or inability to stay alone in their home. Certain medical triggers may come from medication or some disease.
Smart Device Assisted Living
Organizations such as Fitbit and Apple have come up with smart wearable biometric trackers that are available to most people including geriatric and elderly patients. Elderly patients could utilize the inherent AI-Fueled functionality for examining inconsistencies in the specific biometric data. This device could detect a hard fall and accordingly sound an alarm. You must remember that emergency situations could be triggered from slip and falls.
Engage in Some Outdoor Activities
Make sure that your elderly family member is spending some time outdoors every day. This proves to be calming and rejuvenating and helps in promoting exercise. 
Boost Safety via Organization
You must consider creating order inside your home via organizational techniques. You could consider labeling sections to assist elders while they are navigating their home. This should ensure safety within the house. This would help in mitigating undesirable stress and anxiety in elders.
Arrange for Top Grade In-Home Care
Meet and interview numerous candidates before employing your caregiver. You must provide the caregiver with maximum information regarding the elderly family member including his interests, likes, dislikes, and even go ahead and suggest activities within and outside the house. You must clearly state their preferences. You must keep a constant tab of the caregiver to make sure all is well in the house and your loved one is safe and sound. Consider maintaining a calendar containing caregiver schedule, appointments, and family visits. 
Get in Touch with a Reliable Geriatric Care Manager
Employ the services of a qualified and experienced Geriatric Care Manager for assessing the elder, providing a Care Plan and effective ongoing Care Management right from managing and securing caregivers to even consulting with various doctors about treatment, care, and best results. 
Keep Coordinating Family Visits
You must schedule regular family visits to stay connected with your dear one. Prepare meals for them and take them out for shopping or walks. Stay connected with them whenever possible and make them feel important. Keep monitoring and look for any memory loss or incoherent behavior as such. 
Conclusion
It is your responsibility to ensure that your loved one is getting the care and love that he or she deserves at the last phase in their lives. They must feel loved and wanted in your life. Never neglect them. You owe your wonderful existence to them. Follow the above tips and ensure your elders' happiness and good health.
Comments
comments