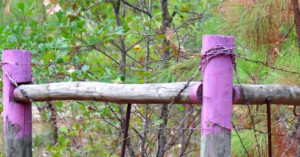 If you like to hike or explore around North Carolina woods, authorities are warning people to be on the lookout for purple fence posts – especially if you have a pet.
North Carolina law allows land owners to protect their land by marking the outskirts of their territory with bright purple spray paint.
According to House Bill 762, "The owner or lessee of the property may place identifying purple paint marks on trees or posts around the area to be posted…"
"Any person who willfully goes on the (painted) land, waters, ponds, or a legally established waterfowl blind of another…without the written consent…shall be guilty of a Class 2 misdemeanor…"
"Any person who willfully goes on the (painted) land of another raking or removing pine needles or pine straw…shall be guilty of a Class 1 misdemeanor…"
The law was initially enacted to make it easier and more permanent for land owners to post "no trespassing" warnings around their property without worrying about the signs being ripped down or blown off.
This purple paint is especially important for pet owners, as court precedent (State v. Smith,  156 N.C. 628, 72 S.E. 321) allows North Carolina land owners to shoot and kill dogs that might be a threat to themselves, their animals, or their property. That law was recently put to the test when a Sanford, NC land owner was found not guilty after shooting and killing a neighbor's dog.
You can find out more about North Carolina's Landowner Protection Act here.
Comments
comments