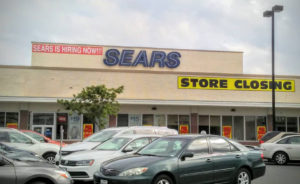 Sears just officially filed for Chapter 11 bankruptcy and announced they will be closing an additional 142 stores by the end of this year.
"The reduction in the number of stores that the company operates, as well as the reconfiguration of the stores it continues to operate, is part of the company's larger process of transforming its business model to place a greater emphasis on providing dynamic online and in-person shopping experiences for its customers," Sears noted in their bankruptcy documents.
The additional closings will include 3 Sears stores in North Carolina;
11033 Carolina Place Pkwy, Pineville NC
400 Cross Creek Mall, Fayetteville NC
703 N Berkeley Blvd, Goldsboro NC
And 5 K-Mart stores in North and South Carolina (KMart purchased Sears in 2004);
1530 East Broad Street, Statesville NC
1001 Patton Ave, Asheville NC
4500 Western Blvd, Raleigh NC
2302 Cherry Rd, Rock Hill SC
129 West Butler Avenue, Mauldin SC
In addition to the 142 new store closings announced today, Sears is also set to close 46 stores by next month (originally announced back in July), including the following locations in the Carolinas and Georgia (mostly now liquidated);
Sears* 4601 Glenwood Avenue Raleigh – Crabtree NC
Sears Oglethorpe Mall, 7810 Abercorn St Savannah GA
Sears 2860 Cumberland Mall Atlanta GA
Sears 100 Mall Blvd Ste 300 Brunswick GA
New liquidation sales are expected to begin at the 142 additional store closings shortly.
Comments
comments