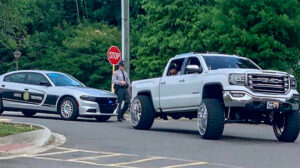 Less than 3 months after North Carolina officially outlawed the "Carolina Squat", South Carolina is now following suit with a bill that just passed the SC Senate with a vote of 33-1.
According to SC Senate Bill 908:
"TO AMEND SECTION 56-5-4445 OF THE 1976 CODE, RELATING TO THE RESTRICTION OF ELEVATING OR LOWERING A MOTOR VEHICLE, TO PROHIBIT MOTOR VEHICLE MODIFICATIONS THAT RESULT IN THE MOTOR VEHICLE'S FRONT FENDER BEING RAISED FOUR OR MORE INCHES ABOVE THE HEIGHT OF THE REAR FENDER."
If signed into law by the governor, there would be an initial $100 fine for first offenders, $200 fine for second offenders, and $300 for third, along with a one-year driver's license suspension.
SC Senate members believe the vehicle modification makes ordinary headlights appear as high beams during normal driving conditions, endangering both oncoming motorists and pedestrians due to decreased visibility.
View this post on Instagram
What do you think about the new bill?
Do you think squatted trucks should be outlawed?
Comments
comments