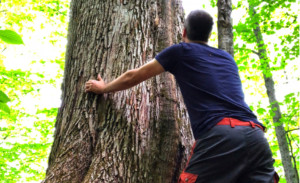 Over the next few weeks, you might see signs like this in various locations throughout Charlotte. They're part of the "Save Your Ash" campaign, made possible through a grant from the North Carolina Forest Service.
The City is actively treating several ash trees to protect them from the emerald ash borer, a metallic green beetle that bores into ash trees and eats the tissues beneath the bark. While cankerworms weaken trees, making them vulnerable to other pests and disease, emerald ash borers kill ash trees. This non-native insect was first discovered in the United States in 2002 near Detroit, and it has spread to at least 30 states, including North Carolina. It was first found in Charlotte in May of 2017.
Here is a map of all of the ash trees in Charlotte (Zoom in to see ash tree locations and click on a tree to send a tree care service request, ask for more information or to report possible EAB detection);
The City of Charlotte just released this video explaining more about the invasive beetle and how to stop it;
If you have an ash tree on your property, the city recommends treating it with either Merit granules for soil injection around the tree, or Safari sprayable insecticide for periodic bark spray. 
Please report any possible sighting of EAB to 800-206-9333 or newpest@ncagr.gov
Comments
comments