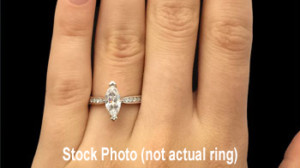 This past weekend, a man found a diamond ring in the Rock Hill's Manchester Cinemas parking lot and turned it into police.
The Rock Hill Police Department is now asking for the owner to come forward and claim it. They are not releasing a picture of the ring to ensure the rightful owner will be the one who will come get it.
The only description of the ring they give is;
"woman's 14 karat white gold solitaire ring with a marquise cut diamond with four small diamonds In the band on each side."
If the ring belongs to you or someone you know, please call the Rock Hill Police Department at 803-329-7200.
Comments
comments