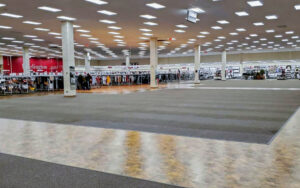 Burlington (formerly known as Burlington Coat Factory) is about to open 3 new giant department stores across the Charlotte region – a surprising trend reversal after the wave of retail closings we've seen over the past decade.
The new Charlotte-area stores will include one in Monroe's Poplin Place Shopping Center (opening this week), a 2nd Concord location at 6390 Bayfield Parkway (opening in October), and Hickory's first Burlington location in the Hickory Ridge Shopping Center (opening in October).
In total, the company will be opening 100 new stores this year, according to an earnings report from the company.
"We remain very excited by the market share opportunities ahead of us. Our 34% total sales growth year-to-date reinforces our confidence in this opportunity. Meanwhile, we believe that many of the prevailing expense headwinds are being driven by short-term market conditions. We continue to expect significant margin expansion, as these conditions normalize, over the next few years," Burlington CEO Michael O'Sullivan said.
Along side the new store announcements, the retail giant has also announced a massive national hiring event scheduled for next Tuesday and Wednesday.
View this post on Instagram
In addition to Burlington's expansions, a slew of other stores have also announced similar openings, including; Foot Locker, Aldi, and Tractor Supply.
In a new report, Coresight Research, a company that tracks store announcements, said a total of 4,602 store openings have occurred so far this year. Despite the devastation of the pandemic, openings actually outpaced closures for much of 2021.
The report notes that the pandemic upheaval has actually created many new opportunities. As many retails have gone out of business, landlords have become more accommodating, offering new tenants discounts on rent or early exit options if shoppers did not return.
What do you think the future of big-box retail in Charlotte looks like? 
Comments
comments