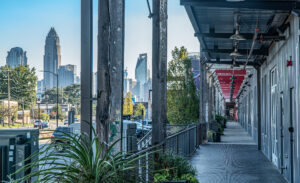 This month, the national rent index jumped another 2.1%, with rents now up by a total of 15% since this time last year. Rent growth has cooled slightly from its July peak, but we're still seeing significant price gains at a time when seasonality in the market normally causes a dip in rents, according to
ApartmentList.com's latest report
.
Rents are still increasing in nearly all of the nation's 100 largest cities, but with Boise, ID and Spokane, WA marking notable exceptions where rents dipped this month. These markets have seen some of the nation's fastest growing rents over the past year, but it appears that they may have hit their peaks. Among the 100 largest cities, there are now just 5 remaining where rents are still below pre-pandemic levels.
Here are some highlights for the Charlotte region:
Rents in Charlotte increased 2.9% month-over-month, compared to 2.1% nationally. Month-over-month growth in Charlotte ranks #28 among the nation's 100 largest cities.

Year-over-year rent growth in Charlotte currently stands at 20.1%, compared to -2.5% at this time last year.

Median rents in Charlotte currently stand at $1282 for a 1-bedroom apartment and $1433 for a two-bedroom.
Comments
comments