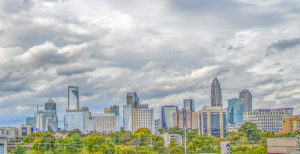 With the third month of 2021 data in the books, ApartmentList.com's new rental report reveals that prices are continuing to rebound, with our national index up by 1.1% month-over-month. This is the third consecutive monthly increase, and the biggest monthly jump in our national index going back to 2017.
The data shows significant regional variation, but the days of plummeting rents in pricey coastal markets have come to an end—9 of the 10 cities with the sharpest year-over-year rent declines saw positive growth this month. At the other end of the spectrum, many of the mid-sized markets that have seen rents grow rapidly through the pandemic are continuing to boom.
Here are some of this month's highlights for Charlott:
Rents in Charlotte increased 1.3% month-over-month, compared to 1.1% nationally. Month-over-month growth in Charlotte ranks #22 among the nation's 100 largest cities.

Year-over-year rent growth in Charlotte currently stands at -0.4%, compared to 2.1% at this time last year.

Median rents in Charlotte currently stand at $1088 for a 1-bedroom apartment and $1215 for a two-bedroom.
What do you think about rental prices in Charlotte? 
Comments
comments