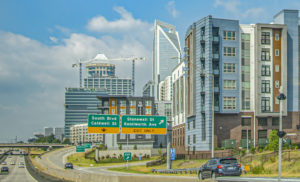 Rent growth is slowing down for the season, a welcome sign for apartment hunters who have battled rapid price increases throughout the pandemic.
The national median rent increased just 0.5% in August, down from over 1% in July. In most places, rents are still rising a bit faster than they did in pre-pandemic years, but much slower than they did last year.
Rents in Charlotte increased 0.6% month-over-month in August, compared to a 0.5% increase nationally. Month-over-month growth in Charlotte ranks #35 among the nation's 100 largest cities.

Year-over-year rent growth in Charlotte currently stands at 14.5%, compared to 15.6% at this time last year. Year-over-year growth in Charlotte ranks #15 among the nation's 100 largest cities. Rents in Charlotte are up by 29% since the start of the pandemic in March 2020.

Median rents in Charlotte currently stand at $1373 for a 1-bedroom apartment and $1504 for a two-bedroom.
Check out the full report 
here
, and for a complete look at national trends, read our 
national report
.
Comments
comments