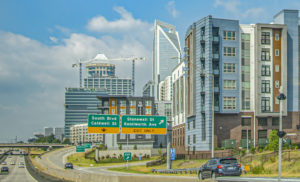 As the COVID-19 pandemic and its ensuing economic fallout continue to overwhelm renters across the country, monthly rent estimates paint the picture of a protracted national slowdown and uneven recovery.
The national rent index is down 1.4% year-over-year, but there is tremendous regional variation beneath the surface. San Francisco and New York City continue to lead the nation in pandemic rent drops, while smaller markets like Boise and Colorado Springs are heating up.
Rents in Charlotte increased 0.1% month-over-month, and are down by 2.3% since the start of the pandemic in March.

Year-over-year rent growth in Charlotte currently stands at -2.2%, compared to 3.1% at this time last year.

Median rents in Charlotte currently stand at $1070 for a 1-bedroom apartment and $1196 for a two-bedroom.
Here's how Charlotte faired to other major US cities:
If you think rental prices around the Queen City have gotten too high and your thinking about buying a home – we can help.
Charlotte Stories is continually partnering with the best real estate agents in every part of the Charlotte region.
If you're thinking about moving in or around Charlotte, let us connect you with a top agent in your area by filling out the form below:
Comments
comments