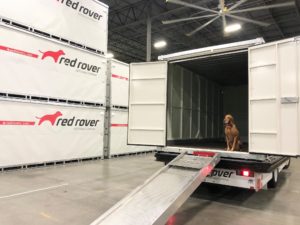 Today, Red Rover has announced the opening of their third market in Charlotte, North Carolina, with the goal of providing customers with a more affordable moving and storage option. Their first two locations are 16,000 square-foot, climate-controlled storage centers at 5033 Sirona Drive, Charlotte, North Carolina and 703 Pitts School Road NW, Concord, North Carolina. 
Red Rover created a new category in the marketplace known as Fetchable Storage offering customers a portable storage unit, pre-loaded onto a truck, that the customer picks up and drives for free. The storage unit is then stored in one of Red Rover's storage centers. If the customer is moving out of the market, Red Rover takes care of the transportation between their locations. With the opening of the new facilities in the Charlotte area, Red Rover can now service most of the Carolinas for inbound long-distance movers. 
"Currently, Charlotte is one of the top five fasting-growing cities in the country," said Peter Warhurst, CEO and founder of Red Rover. "We look forward to establishing roots in the Charlotte community as well as servicing most of the North and South Carolina markets for inbound long-distance traffic." 
A key differentiator for Red Rover is that their customers get to use their truck for free. That includes 60 miles of travel, gas, tolls and a dolly. The customer has from 8am – midnight to fill their container and return the truck. The storage unit is then stored in one of the company's storage centers until the customer needs their belongings back. No loading a truck, unloading a truck and reloading belongings into a storage unit. 
Red Rover launched in February 2020 and currently has three facilities in the Tampa Bay area and one in Long Island, NY. By May 2021, the company plans on growing to a total of nine facilities throughout the East Coast with one additional facility under development in Long Island, two facilities in Charlotte, North Carolina and two more facilities in a location to be announced soon.
Comments
comments