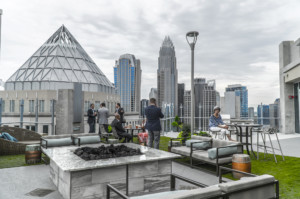 Living alone was often praised as a "dream come true" while shared living was viewed by many as a financial necessity rather than a lifestyle choice. But that was before the pandemic started. The shift to remote work sent many people into loneliness and the lack of regular, face-to-face interaction can have a deep psychological impact on all personality types. As such, living with roommates emerged as a good alternative not just for those seeking financial comfort but for our general wellbeing as well as we try to cope with staying inside.
Living with roommates however comes with pros and cons. In a new report by StorageCafe, it was determined that , Raleigh offers the best overall shared living experience among the largest US cities, while Charlotte follows closely on 6th place.
Other key insights from the report include:
Close to 30% of Raleigh adults live with roommates sharing decent housing costs —$1,126/month for a 2-bedroom apartment. Out of all the cities, Raleigh has the 15th greatest share of adults living with roommates. People are more likely to live with roommates where rent is high, with the largest shares of co-paying adults living in Santa Ana, Irvine, San Diego, and San Francisco.
Raleigh is one of the 20 cities in which doubling up with a roommate can save more than $5,000 a year.
Living with a roommate instead of solo will save the average Charlotte resident $5,646 a year, but only $4,296 in Durham.
Raleigh provides the 9th most space per roommate, offering a generous average of 526 square feet of living space per person, followed by Charlotte with 525 sq. ft., and Durham with 522 sq. ft.
And the city where roommates can save the most money? People sharing an apartment in Boston have the biggest financial perks as they could save up to 20% of their income, namely around $8,190/year.
Comments
comments