New data released by Duke Energy shows higher than expected levels of radioactivity in the groundwater around Lake Norman.
The EPA recently mandated Duke Energy to drill test wells to monitor and test for groundwater pollution at all of their coal power plants around the country and to release the data to the public. Rather than summarizing any of their findings or providing any easy-to-understand charts or graphs, Duke instead released a virtual library of information which they called the "CCR Rule Compliance Data & Information".
Earthjustice Senior Attorney Lisa Evans discovered some very alarming numbers after digging through the over 20,000 pages of data Duke posted on their website.
"The way Duke Energy presented its data showed a clear intent to obscure the findings," noted Lisa Evans. "Despite Duke's efforts, we found that the data reveal levels of radium in groundwater that far exceed EPA's drinking water standards and that could clearly harm people who use this water for drinking."
According to the Waterkeeper Alliance, "Levels of radioactivity from radium at the Marshall coal-fired power plant on Lake Norman were 2.5 times the federal drinking water standard. Thallium levels at Marshall also exceeded federal standards and were 18 times higher than the North Carolina groundwater standard. Ash ponds at Marshall are still leaking into surface water and groundwater upstream of drinking water intakes for more than 1 million people in the Charlotte region. Together, these alarming results mean that Marshall ash facilities are much more polluted than previously disclosed."
In the first half of the 20,000 pages of data, I found several dozen "inundation maps", showing the banks and buildings that are potentially affected by the hazardous radioactive groundwater – this map is the clearest overview of the area;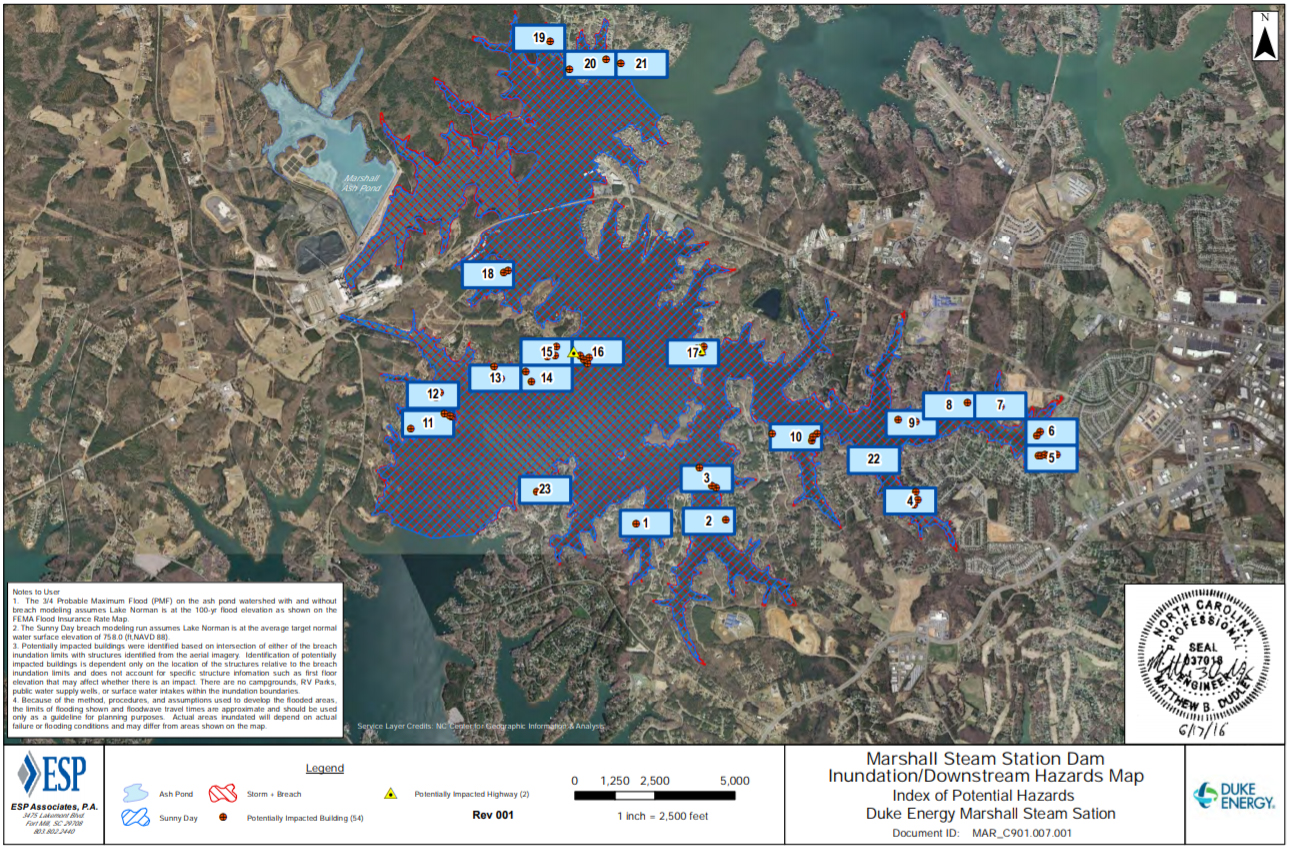 Click here to see other inundation maps of the area.
Here's a larger map showing where the Marshall Coal Plant and its coal ash pond is;
If you're concerned about the drinking water around your home, officials recommend either using a drinking water test kit and/or installing a reverse osmosis filtration system.  Reverse Osmosis is one of the most effective filtration methods for contaminated water.
To get a better idea for the whole house reverse osmosis, you can check out this buying guide and the installation process here: https://www.rezpectourwater.com/best-whole-house-reverse-osmosis-system/
UPDATE 3/8/2018 5:00pm:
According to, Bill Norton, Corporate Communications at Duke Energy, the test wells where the elevated levels of radiation were detected "are located immediately next to the ash basin or landfill within our property. These findings do not reflect groundwater conditions farther away or off plant property where neighbors are located."
In regards to the future of the Charlotte-area coal ash ponds, he noted that "Duke Energy has already committed to closing all our ash basins. We are well down the path of closure."
Comments
comments