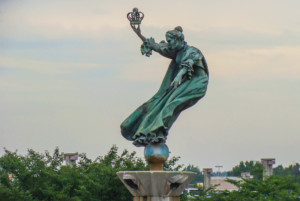 The site oddee.com has published an official list of what they believe to be the ugliest public statues in the world, and one of Charlotte's most iconic statues made the list – the airport's Queen Charlotte.
The site places our awkwardly positioned queen among 12 other truly strange and even disturbing sculptures that are currently on display in public locations, including;
The waving man statue in Burkina Faso;
A contemplative sheep in Canberra, Australia;
and the 'boy riding a turtle' Fountain statue on Worcester Common;
Our Queen Charlotte statue was originally commissioned in the 80s for $250,000 by a group known as the 'Queen's Table'.
"There have often been many assumptions made about why the sculpture is shaped the way it is. Some believe it is bent like a willow branch, appearing to be held aloft by the wind. Kaskey simply says that he made her "leaning backward in the wind because it seemed appropriate for an airport…and the column sets her as a stationary weather vane." The emblem of the fountain and base is a compass rose, suggesting Charlotte is a crossroads.  Queen Charlotte is positioned atop a column, which is also a water fountain and stands in the middle of a water-filled base.  The base includes markings indicating North, South East & West. The crown in her hand is counter-balanced with the backwards motion as a welcome sign to the pedestrian.'"
Queen Charlotte was officially dedicated to the airport on September 18, 1990.
Due to the ongoing construction, the statue was relocated in January, 2013, to a spot between the Daily decks, north of the terminal. She'll remain there until the terminal expansion project is complete.
What do you think about our Queen Charlotte statue?
Comments
comments