President Trump will be flying to Charlotte this afternoon, according to the White House. This will be his 5th visit to our state in the past 30 days.
The president's visit comes 1 day after Joe Biden visited the Queen City to participate in a discussion at a Black Economic Summit.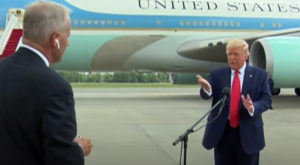 Air Force One is scheduled to arrive at 4:10 pm, and the president is scheduled to speak at the Duke Energy hanger at 4:30 pm. According to a White House spokesperson, he will be talking about his vision for health care and why he is trying to remove the Affordable Care Act.
North Carolina is expected to be one of the most tightly contested states in the nation in the upcoming presidential election. You can now vote by absentee ballot (find out more info here).
Expect heavy traffic delays around the airport for most of the afternoon.
Comments
comments