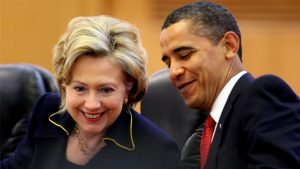 Updated: 7/1/2016
The Clinton campaign will be visiting Charlotte with President Obama this coming Tuesday. They will both be speaking at the Charlotte Convention Center in Center City on July 5th from 2pm-5pm. Doors will open at 1pm. For more information, or to register click here.
The secret service will be shutting down several major roads between the airport and the convention center before and after the event.
This will be President Obama's first appearance on the 2016 Democratic campaign trail with Hillary Clinton.
The president was previously scheduled to join his former secretary of state in Green Bay, Wisconsin two weeks ago, but a deadly shooting in Orlando forced the campaign to postpone the event.
Earlier this month, the president endorsed Clinton in a surprisingly emphatic manner (in light of their many disagreements over the years, and a rivalry for the Democratic nomination in 2008), telling Americans;
"I don't think there's ever been someone so qualified to hold this office. I have seen her judgment. I've seen her toughness. I've seen her commitment to our values up close, I'm with her. I am fired up and I cannot wait to get out there and campaign for Hillary."
Immediately after the presidents endorsement of Clinton, Donald Trump warned him against hitting the campaign trail for his rival during his Virginia rally earlier this month;
"We have a president that doesn't know what the hell he's doing, folks. I hear he's going to take a lot of time, during our time, when he's supposed to be looking at trade and the military and all of these things, and he's going to campaign for Crooked Hillary. You know what? That's okay. That's okay. Because if he does that, we're allowed to say things about him that normally we wouldn't bring up. Remember when Bill started campaigning?"
N.C. Attorney General Roy Cooper, the Democratic candidate in the upcoming NC governor race, will also be joining Obama and Clinton at the event next Tuesday in Charlotte.
Similar to President Obama's last visit in April of last year, the secret service will likely shut down all Charlotte roads coming to and from the event.
We will be updating this article as new information comes in.
Comments
comments