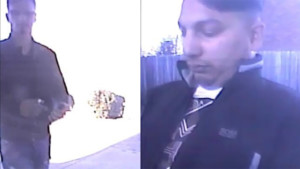 A credit card skimmer was recently caught on video in Rock Hill, and now, police are saying that there's a good chance he's connected to a nation-wide Romanian refugee ATM skimming crime ring.
Local police are working with federal agents to find the two local skimmers before they strike again.
The security footage at Rock Hill's First Citizen's Bank (Herlong Ave.) caught the two on camera and signaled some red flags.
"A couple years ago we had some Romanian nationals that were doing this and detectives today think it's the same group, it was all up and down the east Coast and it was in the dozens at the minimum," Rock Hill police spokesperson Mark Bollinger commented.
Police are now warning people to check every ATM they use in the Charlotte area by pulling on the card reader and the keypad to ensure they have not been tampered with by a skimmer;
If you have any information about the men in the surveillance photos, please call crime stoppers ((704) 334-1600) or your local police as soon as possible.
Comments
comments