Edward Dukes, Jr., 27, has just been arrested in Concord for possessing a "weapon of mass destruction" and unlawful possession of an assault rifle. Police were following up on a report of some guns found by juveniles that led police to his door.
According to the CPD report, soon after police arrived at 3170 Patrick Henry Drive they discovered the weapons and interviewed the family, who all stated Dukes had found the weapons and put them in his closet.
Police found an AR-15 and a silver Remington 870 Express with a barrel that was sawed-off to be about 12 inches in length and had its wooden stock sawn into the shape of a pistol grip.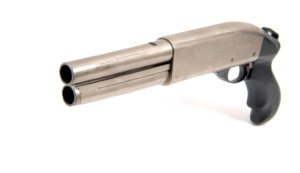 According to North Carolina G.S. 14-288 The term "weapon of mass death and destruction" includes: any shotgun with a barrel or barrels of less than 18 inches in length or an overall length of less than 26 inches.
After Duke was arrested, he confessed to buying the rifle from the 9-year-old in his neighborhood for $20, and that he found the saw-off shotgun in Greensboro a few weeks ago. He told police that he was planning on turning the weapons in is on probation and isn't allowed to possess firearms.
The officer placed both weapons, along with a box of 12 gauge shells, into police evidence.
Dukes is now being held at the Cabarrus County Jail with a $10,000 bond.
Comments
comments