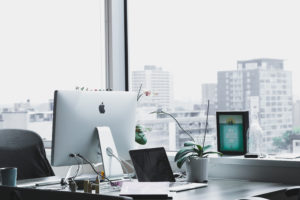 Working from home has become the most prevalent "new normal" in the post-covid world. The pandemic has pushed many of us to work efficiently despite the unseemly facilities at home.
We work on our laptops or personal computers for hours, getting tired earlier than usual. Have you wondered what might be the problem?
You guessed it right — the posture and comfort. Most of us don't have the office setup at home to work conveniently; thus, we experience back pain and soreness in the shoulder.
This is a high time you get the best desktop stand for your work from home routine now! 
To help you purchase the right one, we have curated five things you need to consider in the desktop stand you are looking to purchase. 
Going for the desktop stand that suits your working style is the smartest way to make a purchase.
For instance, Some people are comfortable to work while standing. A standing desk is ideal for them. While few others are super productive working in their bed, a monitor riser is a great option. 
This way, you will use the desktop stand effectively, rather than just allowing it to occupy a corner in your home. 
This one is major if you prefer a monitor riser or a laptop stand. Even though your laptop's fixed position seems okay, you will change your laptop's position based on your posture. 
For example, a person leaning towards the back of the chair keeps the laptop closer than leaning towards the front.
Accordingly, your laptop must have adjustable features to suit your posture and also decreases the screen glare.
Plus, choose the desktop stand that has an optimal height to your eye level. It allows you to work with full focus for hours without any shoulder or neck pain. 
A desktop stand shouldn't only have room for your laptop but also the accessories. 
Some monitor stands come with a drawer with sections for your USB ports, notebooks, charging cables and other computing needs. 
This multi-purpose feature makes your work-life perfect. You needn't look for spaces to occupy your notes and office files as the stand will keep everything compactly. 
Interestingly, some laptop stands have extendable mobile stands to place your smartphones vertically. This way, you can attend a video call with your team while working on your laptop simultaneously. 
Do you know metals helps laptops to cool faster? Yes, it is true. 
When you're working for long hours, obviously your system tends to heat up pretty much faster. If this condition persists, it will affect the functioning of your laptop. 
In major cases, the high-end CPUs contribute to the heating. Therefore, choosing the best material that ventilates the heat would keep your laptop sane.
Using a steel mesh and metal mesh desktop stands have enough space to vent out heat and exchange cool air through the holes. 
It is advisable not to go for plastic, and wood desktop stands as it doesn't normalize your laptops' temperature.
Be it a pricey state-of-the-art desktop stands to budget-friendly ones; there are numerous options abundantly available in the market. 
Regardless of how much you spent, you will find the perfect desk for your work from home setup. 
However, it is wise to consider an adjustable sit to stand desk. It shrinks to your sitting position and expands when you want to stand and work. Isn't it cool? 
With a push of the button, you get access to both these features. Starting from $500, you get amazing adjustable desktop stands. All you need to do is choose the one that suits your budget. 
The Bottomline
As buying a perfect desktop stand is a one-time investment, you can analyze the variety of options in the market to pick the best one. 
Comments
comments