Hanging in my dining room is one of my most favorite pieces of artwork. An artist's easel is setup in a field of colorful flowers. Next to it is a blanket with a wicker basket, fruit and a glass pitcher. It's the ideal picnic scene.
The perfect picnic doesn't have to live only on my wall. There are ways to make a simple picnic in a beautiful place.
Local experts share their thoughts with Charlotte Stories on how to plan the perfect picnic:
Choose the right spot
Finding a place to picnic in Charlotte isn't difficult. There are parks with picnic tables, shelters and grassy knolls in most every part of the county.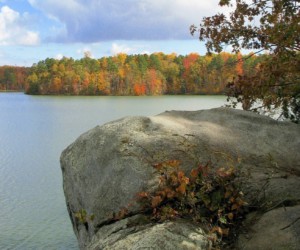 Michael Kirschman is the Deputy Director of Mecklenburg County Park & Recreation Department. "Best kept picnic spot, in my opinion, is Buzzard Rock overlook at Latta Plantation Nature Preserve," Kirschman said. "The view is the best in the area overlooking Mountain Island Lake. Short path brings you to a wooden deck with built in seating."
Kirschman also recommended Clarks Creek Nature Preserve in the University City area. It has blooming wildflowers, a shelter, grill and playground.
Ramsey Creek Park on Lake Norman offers several picnic options. Walk along the path to find tables with a view of the lake. Some spots are secluded with a small sandy beach, perfect for spreading out your blanket. Later, take a short walk to the park's swimming area for a quick dip.
Latta Plantation Nature Preserve, Romare Bearden Park, Freedom Park, Park Road Park and Jetton Park have many options for picnics. For larger groups, shelters with covered seating areas may be rented through Mecklenburg Parks and Recreation.
Bring the best foods
Once you know where you're headed, choosing your menu is next. Amanda McLamb is The Foodie Realtor at Cottingham Chalk Hayes. She is @clthomes by day and @ravenouspanda for every meal.
"A picnic spread is all about communal feasting," McLamb suggested. "I always like to pack items that are easy finger foods."
For McLamb, an ideal picnic meal is an array of cheeses and cured meats, freshly baked bread and olive oil with sea salt flakes mixed with either red pepper flakes or shaved truffles. Add pickled or fresh chopped veggies to the menu for crunch.
"Lately, I loved roasting stone fruits, especially peaches, when they are in-season, on parchment paper or on the grill until caramelized, tossed with salt and balsamic reduction and served on bread with mascarpone," said McLamb.
Caroline Winchester, Catering Sales Manager for Dean & DeLuca at Phillips Place, suggested heirloom tomatoes in a cucumber and tomato salad or caprese salad with tomato, basil and mozzarella.
"I love the vibrant colors that these salads have as well as the crisp taste of summer that both bring to the palate," Winchester said.
Add the finishing touches to your menu with splendid drinks. "When I think summer picnic I can't help but remember all the days on Lake Norman as a child, and my mom bringing lemonade for us," Winchester said. "It's the quintessential summer staple drink. You can mix it with tea or something a little stronger depending on your style."
Make it look good
The presentation of your picnic is almost as important as the food you'll eat. An attractive cooler or basket with a table cloth or blanket can make the meal feel special. These shops have what you need:
Blis Gift Boutique in the Overstreet Mall sells Urban Baskets, Scout coolers, plastic appetizer plates and platters and Swig wine glasses and Swell bottles; $15-$30. 100 North Tryon Street Suite 265
L&M Monogramming has easy to carry picnic blankets that include a free monogram with the purchase; $30. 310 East Blvd. Suite 1
The Greener Apple carries Klean Kanteen bottles, To-Go Ware bamboo utensils and stainless steel containers and LunchBots; $13-$31. 1306 The Plaza
 Pro Tips for the Perfect Picnic
Don't forget the essentials. Pack utensils, plates, napkins and water.
2. Picnics don't have to be homemade. Pick up food from your favorite deli or restaurant.
3. Choose shade. Charlotte summers are hot, but sometimes a shady spot can make all the difference.
Photos: Mecklenburg County Parks and Recreation, Blis Uptown, Amanda McLamb
Comments
comments