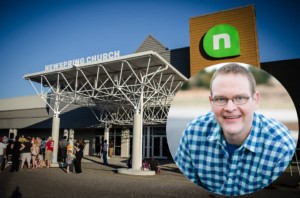 During this morning's service at NewSpring Church, it was announced that founding pastor Perry Noble was removed from leadership due to continued marital issues and alcohol dependency.
"Perry has made some unfortunate choices and decisions that have caused us much concern. Over the course of several months, our executive pastors have met with and discussed at length with Perry — concerns regarding his personal behavior and spiritual walk. Perry's posture towards his marriage increased reliance on alcohol and other behaviors." commented Executive Pastor Shane Duffey at the start of Sunday's service.
Duffey went on to read a statement that was written by Perry Noble, "I wish this were a joke or part of a sermon or illustration. However, it's true. I've never had a problem drinking alcohol socially but in the past year or so I've allowed myself to slide into, in my opinion, the overuse of alcohol."
Here is a video of the statement this morning:
NewSpring Church is the largest single church in South Carolina and was recently ranked as the #2 fastest growing church in America. According to their 2015 annual report, the church received $64,297,130 in donations last year from over 32,000 weekly attenders at 17 campuses across South Carolina.
Hundreds of NewSpring members have now taken to social media to show their continued love and support for both NewSpring and for Perry Noble:
My heart is heavy. #newspring did the right thing and I have faith #perrynoble will recover stronger than ever. #istilllovemychurch

— Brittan (@babblinbrunett) July 10, 2016
Pastors are human. Don't be quick to judge. I am praying for you @perrynoble. #pastorsarehuman #perrynoble

— Jason Squires (@Jason_Squires) July 10, 2016
@perrynoble You are a great man of God and I thank you for all that you have done. You are in my prayers. #perrynoble #KeepYourHeadUp

— Angela Deas (@Ang_Brown1010) July 10, 2016
#perrynoble If all US leaders were judged by personal failures, there'd be no MLK Holiday or Kennedy Space Center.

— Will Haynie (@willhaynie) July 10, 2016
Comments
comments