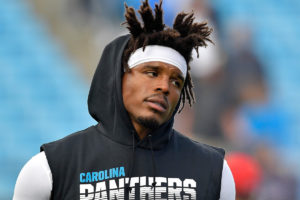 The Carolina Panthers starting QB has just been placed on injured reserve, effectively ending his 19-20 season with the Panthers and bumping Kyle Allen up to the official starting QB position on the permanent roster.
In an official statement, Panthers general manager Marty Hurney said, "We have said all along that it is impossible to put a timetable on this injury. Nobody is more frustrated with that fact than Cam. He's one of the fiercest competitors I've been around during my 20-plus years in the League. At this time, we have decided that the best decision to reach the goal of bringing the foot back to 100 percent is to place Cam on injured reserve."
This past Friday, Cam Newton took a trip to Green Bay to meet with renowned foot specialist Dr. Robert Anderson, who used to be the Panthers assistant team physician.
From @NFLTotalAccess: #Panthers QB Cam Newton flew to visit Dr. Robert Anderson today, with his foot not healing as he hoped. The next decision is a big one. pic.twitter.com/HCsnMdTtlV

— Ian Rapoport (@RapSheet) November 1, 2019
The meeting clearly went worse than everyone hoped and gave Hurney the definitive evidence to place the starting QB on injured reserve.
Cam Newton now has just 1 year left on his $21 million contract. The Panthers are now faced with the decision of whether they want to spend $2 million to release Newton early and save $19 million on the salary cap, roll the dice and resign him, or hope he heals before they have to make a decision and before another team snatches him up.
What do you think should be done at this point?
Comments
comments