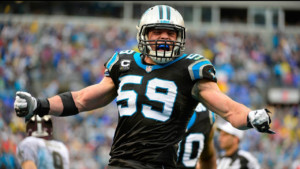 Yesterday The Panthers secured their 5th win of the season against the Tamba Bay Buccaneers, bringing our record to 5-3 at the season's half-way point.
Our offense looked decent but considering the Bucs are the league's third-worst defense, we still have plenty of improvements to make. Cam Newton was solid, with a 25-yard touchdown pass to Kelvin Benjamin, and several clutch runs – leading the Panthers in rushing yards with a total of 44.
Luke Kuekly returned in true form after a concussion scare 2 weeks ago. His return helped solidify the Panthers defense as one of the best in the league, allowing only 279 yards of offense for the Bucs – a season-low for Tampa Bay.
That's especially impressive, considering the Bucs started yesterday's game with the league's top-ranked passing offense and a franchise-best 5-game streak of more than 300 passing yards – yesterday the Panthers crushed that streak, holding them to just 194 passing yards.
Coach Ron Rivera commented after the game that there were "A lot of positive things. We did some good things in all three phases, I thought the guys played well – offense, defense and special teams. We gave ourselves an opportunity to win."
Yesterday the Saints also won their game against the Bears, giving them a 5-2 record and a first place ranking in the NFC South.
Next week the Panthers will play the 4-3 Atlanta Falcons at Bank of America Stadium (you can buy tickets for next week's game here).
Comments
comments