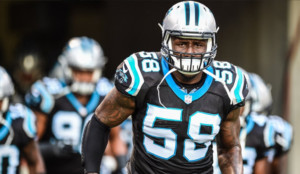 Arguably one of the greatest linebackers to play for Carolina is about to sign a new contract with the Panthers.
After 2 seasons with the LA Chargers and Washington Football Team, All-Pro LB Thomas Davis will sign a 1-day contract with the Carolina Panthers to return home and officially retire.
Davis was picked by Carolina in the 1st round of the 2005 draft and quickly racked up the numbers to become the Panthers' all-time tackle leader with 1,258 total tackles, including 30 sacks, in 176 regular-season games and 11 playoff games before being signed to the Chargers in 2019.
"To be able to play 16 years in this league has truly been a blessing, and I can't thank God enough for seeing fit to put me in this position to do that," Davis said. "To the Carolina fanbase, I just want to say to you guys, you guys have been tremendous throughout my entire career. I can not thank you guys enough for your love and support. I can not wait to sign that one-day (contract) and retire a Panther. Keep pounding."
View this post on Instagram
Welcome home!
Comments
comments