Hurricane Florence is now on day 3 of causing flash floods and damaging winds across the Carolinas.
The downgraded category 2 storm (currently a tropical storm) first made landfall late Thursday night near Wrightsville Beach. While the storm hasn't been as dramatic in terms of wind speed and structural damage as Hurricane Hugo or Matthew, it has already taken 5 lives, and over 360 people have had to be rescued from the town of New Bern, NC.
While the major section of the storm hasn't reached us yet, the Charlotte region has already been seeing pockets of flooding, downed trees, and some widespread power outages.
Over 10,000 customers in Mecklenburg County have already lost power;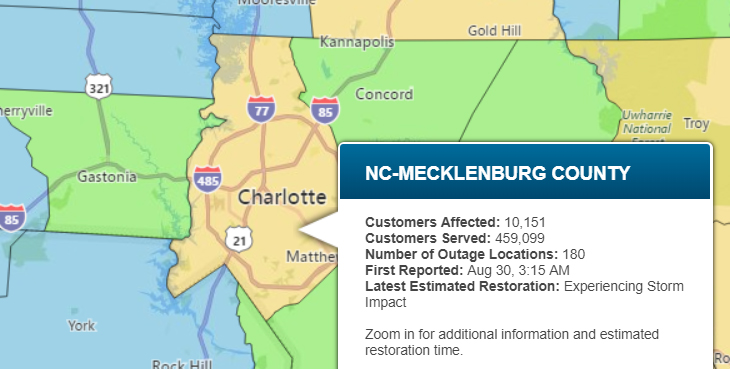 The power outages have primarily been caused by large tree branches and even some trees falling on power lines;
According to the Duke Energy power outage map, there are currently 546,992 customers without power in the state of North Carolina (as of 8:24am);
Gov. Roy Cooper is still urging residents to be cautious. In a recent statement, he said the worst might be yet to come and urged residents who had evacuated not to return home yet. He said forecasts predicted that the Cape Fear and Lumber rivers would rise "as high or even higher as in Hurricane Matthew," which flooded similar parts of the state two years ago. "If the storm hasn't reached you yet, it's coming," he said.
Comments
comments