Today from 1pm – 5pm, Charlotte will be closing Wesley Heights, Uptown, and South End streets to all motorized vehicles for our city's second official 'Open Streets 704'.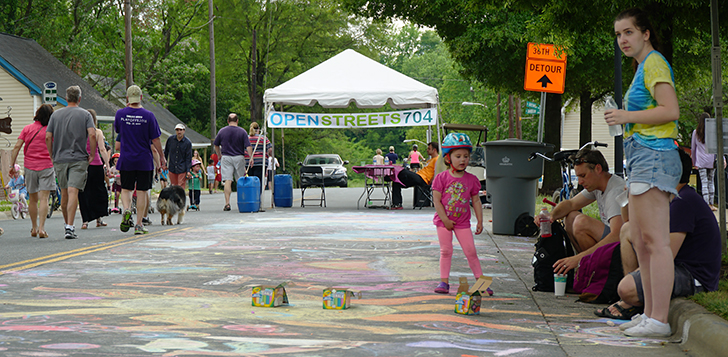 This time, the route will start at the corner of Trade and 5th, connect to 4th st. through Seversville, turn on Mint Street in uptown, go around the Panther's stadium, then will travel down Church St., Summit Ave., and Camden Rd. in South End:
There will be 4 'zones' along the route that will only be accessible to pedestrians and bikers, including:
Family Zone: Fun for the whole family! From bean bag toss to a pop up dog park – be prepared to get active. Activities will include: street soccer, bicycling demonstrations, pet crafts,  life-size jenga, and more.
Green Zone: Be prepared to learn about nature, plant trees in the community, lend a helping hand in the garden, and talk about the wildlife from local nature centers.
Wellness Zone: Work on a fitter/healthier version of you! Cooking demonstrations, yoga classes, Zumba, and healthy heart initiatives will fill this zone with fun.
Arts and Science: Opportunities abound to explore your creative side. Musical performances, artist demonstrations, interactive maker spaces, and dance ensembles of all ages will engage with Open Street 704.
Here are all the activities now scheduled along the route:
Check out Open Street's 704 Facebook event for continued updates, or find out more on the Open Street 704's Website, Twitter, Facebook, and Instagram.
Comments
comments