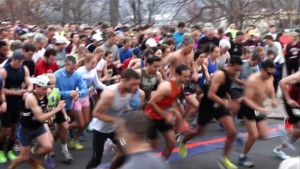 Runners return to uptown Charlotte and surrounding streets this weekend for the 18th iteration of the Novant Health Charlotte Marathon. Friday's Expo and Saturday's races are expected to go on as planned, with organizers keeping an eye on the weather.
"Our number one goal is to produce a safe, fun, event that runners, their families, our partners, and friends can all feel good about," said Tim Rhodes, RunCharlotte president, and Race Director for the Novant Health Charlotte Marathon. "We expect a warmer, windier race day than usual, and have prepared accordingly."
The weekend lineup begins today with the Expo and packet pick-up at Victoria Yards. Saturday's events include the Novant Health Charlotte Marathon, half marathon, rucking half marathon, full and half marathon relays, and the Chick-fil-A 5k. Organizers expect nearly 6,000 runners over all events.
Novant Health Charlotte Marathon Event Weekend:
Friday, November 11 @ Victoria Yards, 219 E 7th St, Charlotte, NC 28202
Pre-Event Expo (Packet Pick-Up)
10:00am — 7:00pm
Saturday, November 12 @ Graham St., between 3rd and 4th
7:10am – half marathon rucking start
7:20am — Novant Health Charlotte Marathon, half marathon, and marathon/half marathon relay starts
7:35am — Chick-fil-A 5K start
Neighbors and drivers can find more information about traffic delays and road clear estimates here: https://thecharlottemarathon.com/wp-content/uploads/2022/10/2022-Marathon-Course-Timeline.pdf
Comments
comments