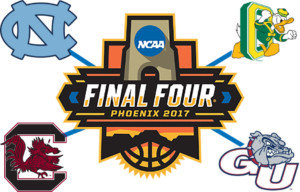 For the first time in NCAA history, both the University of North Carolina and the University of South Carolina are both heading to the Final Four. It will be South Carolina's first time and North Carolina's 20th time.
The South Carolina Gamecocks dominated on defense and free throws to beat out the Florida Gators, 77-70, in the East Regional final at Madison Square Garden.
In classic Tar Heels style, UNC clinched the Final Four slot with just 0.03 seconds left on the clock, beating Kentucky with a final score of 75-73:
NEVER CHANGE, MARCH. pic.twitter.com/1H4aiOLXYG

— CBS Sports (@CBSSports) March 26, 2017
South Carolina will now face Gonzaga this coming Saturday at 6:09 p.m. – the Bulldogs are now favored to win by 6.5 points, according to OddsShark.
The Tar Heels will play the Oregon Ducks on Saturday night at 8:49 p.m. – UNC currently has a 4.5-point odds advantage in the game, according to OddsShark.
Most analysts think that if the Bulldogs and Tarheels do both win their games, North Carolina would ultimately win the championship.
Who do you think will win it all?
Comments
comments