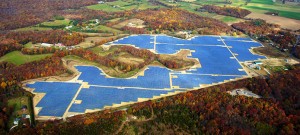 Annual solar energy production in North Carolina jumped 36 percent in 2018, according to the latest government data – firmly placing North Carolina as the No. 2 solar-producing state in the nation.
Data (page 54) from the U.S. Energy Information Administration (EIA) confirmed North Carolina's 36 percent growth, which significantly outpaced other leading solar states. By comparison, California's annual solar production rose 15 percent; Arizona's and Nevada's outputs each grew 10 percent in 2018.
At year-end 2018, EIA reported North Carolina produced 7.2 million megawatt-hours of solar generation – enough to power more than 600,000 homes. North Carolina was third in the nation for connecting new solar projects in 2018.
One of the biggest factors for solar growth in our state is North Carolina's growing solar rebate program.
"Duke Energy continues to connect more solar to the North Carolina energy grid and promote new customer programs in response to the state's 2017 solar law," said Stephen De May, Duke Energy's North Carolina president.
Under the program, residential customers are eligible for a rebate of 60 cents per watt for solar energy systems 10 kilowatts (kW) or less. For example, a typical rooftop array of 8 kW is eligible for a $4,800 rebate. Installed systems 10 kW or greater are eligible for a maximum rebate of $6,000.
Nonresidential customers are eligible for 50 cents per watt. Nonprofit customers (such as churches and schools) are eligible for an enhanced rebate of 75 cents per watt for systems 100 kW or less.
New solar systems can be purchased for between $1-$1.50 per watt here.
Comments
comments