The 1,000+ year old trees along North Carolina's Black River (currently thought to be the oldest trees in the Eastern United States) might soon become part of a new state park if newly proposed legislation goes through.
House Bill 353, introduced by Reps. William Brisson of Duplin and Brenden Jones, would authorize one state park and three state natural areas to be acquired and set aside for public enjoyment by the state, including:
Black River State Park: About 2,600 acres in Bladen, Pender and Sampson counties. Major attractions would include cypress trees more than 1,600 years old and paddling.
Bob's Pocket State Natural Area: About 2,900 acres in McDowell County. Sheltered coves and ravines with unusual rock formations and rare plants, could support recreational uses and trail connections.
Salmon Creek State Natural Area: About 1,000 acres in Bertie County, including cypress-gum swamp, marshes and tidal swamps. Site also includes 18 archaeological sites and one Indian occupation site that may be linked to the "Lost Colony."
Warwick Mill Bay State Natural Area: About 1,000 acres in Robeson County, including one of the state's largest inland rookeries. Could include opportunities for bird conservation, birdwatching and wildlife observation.
If the bill passes, the initial land acquisition would cost between $1 million to $2 million, and it would take about two to three years before the park could open.
The biggest bald cypresses in the region are in the Three Sisters Swamp, which is officially the oldest cypress swamp in the world. One of the trees, named Methuselah, has even been dated to 364 AD, meaning the 1,650-year-old started growing during the height of the Roman Empire.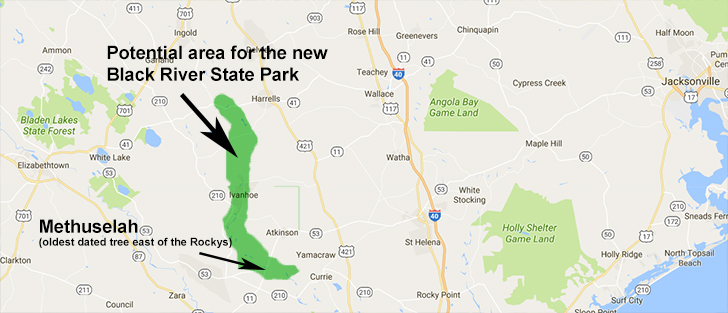 What are your thoughts?
Do you think the region around the Three Sisters Swamp should become a state park?
Comments
comments