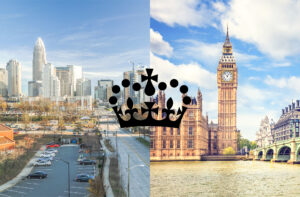 The Governor and Secretary of State have just signed an agreement with the United Kingdom's Ministry of Trade Policy to strengthen economic ties and actively fight climate change.
The "Memorandum of understanding on cooperation and trade relations between the US state of North Carolina and the United Kingdom" has 4 primary goals:
Achieving net zero greenhouse gas emissions as soon as possible, but no later than 2050, by accelerating the development and deployment of clean energy industry and technologies, such as photovoltaic solar, offshore wind, electric vehicles, battery storage, and other innovations critical to economy-wide decarbonisation, and by ensuring a just transition for workers affected by the shift towards a low-carbon economy.
Increasing economic opportunities for the Participants' citizens and residents, particularly in previously underinvested regions, by identifying, anticipating and addressing barriers to free and open trade, increasing investment and enhancing business networks, including those of women- and minority- owned businesses.
Strengthening people-to-people ties between the Participants to support the ongoing evolution and growth of the United States-United Kingdom relationship.
Promoting equity and environmental justice through economic development and climate action.
Prioritising and advancing opportunities in their government procurement processes.
According to the memorandum, the above goals will be carried out through 6 main activities; Best Practice Exchange, Government Missions, Private-Sector Partnership Development, Higher Education Partnerships, Joint Projects and Events, and Capital Investment.
"Our state-level work shows we can be dynamic and creative with our trade partners. Whilst we continue engaging with Washington D.C., we're speaking to businesses and political leaders right across America – from North Carolina to California – to grow our already £200bn trade relationship," Penny Mordaunt, Minister of State for International Trade said in a press release. "North Carolina is home to some of the US' most exciting companies – from Honeywell to Labcorp – and was recently named America's top state for business. Our twin-track approach to trade with the US is helping cut bureaucracy, reduce costs and increase exports and investment, and I look forward to seeing UK businesses reap the benefits. The UK is continuing to seek out ways to remove barriers to trade at a state-level as part of a wider US trade strategy. We plan to sign additional agreements with Oklahoma and South Carolina in the coming months, with even more in the pipeline. The UK has also delivered major trade breakthroughs at the federal level. This includes removing restrictions preventing high-quality Welsh lamb and Scottish beef from being sold in the US and resolving the Section 232 tariff dispute, resulting in the removal of 25% tariffs on British steel, a huge win for UK steelmakers."
What do you think about the new agreement? 
Comments
comments