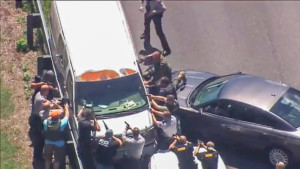 Speed kills. We have all been told that since driver's education class, and yet America drivers routinely exceed the speed limit. To find out which states take the hardest line on dangerous driving behavior, personal finance website WalletHub conducted an analysis of 2018's Strictest and Most Lenient States on Speeding and Reckless Driving.
WalletHub analyzed penalties for speeding and reckless driving in each of the 50 U.S. states and the District of Columbia across 12 key metrics. Their data set ranges from what speeds are automatically considered reckless driving to how many speeding tickets it takes to earn an automatic license suspension.
Speeding and Reckless Driving Penalties in North Carolina (1=Strictest; 25=Avg.):
2nd – Speeding Automatically Considered Reckless Driving
2nd – Average Increase in Cost of Insurance After One Speeding Ticket
20th – How Much Do Speeding Ticket Points Count Toward a Suspension
9th – Minimum Jail Time (first reckless offense)
12th – Minimum Jail Time (second reckless offense)
12th – Maximum Fine (second reckless offense)
The Tar Heel state ranked just behind Oregon (#6) and California (#5), and just ahead of Illinois, Virginia, Alabama, and Washington (all tied for #8);
What do you think about drivers in North Carolina? 
Comments
comments