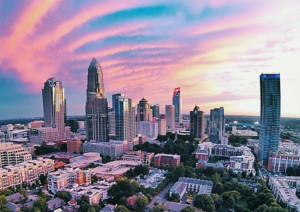 North Carolina has just been ranked as one of the top states in North America for its net migration pattern according to Atlas Van Lines, one of the largest moving companies in the world.
Atlas' new report crunched the data from 71,092 Interstate and Cross-Border Household Goods Relocations from January 1, 2018 through December 15, 2018.
"It is integral for not only the moving industry, but also our nation, to track domestic and international migration patterns to better understand why and where individuals are relocating," said Jack Griffin, Chairman and CEO of Atlas World Group. "These tangible insights for people, companies and industries can serve as important factors in influencing business and personal growth."
North Carolina was ranked the top in the south and the #3 state in the country. Nevada ranked #1 in America for the first time, and the remaining top 10 states were fairly spread out across the country. Professional movers from California, Texas, Florida, and several others reported balanced numbers of inbound and outbound moves.
Here are the top 10 inbound and outbound states in America, according to Atlas;
INBOUND:
Nevada (67.8 percent)
Idaho (66.2 percent)
North Carolina (62.6 percent)
New Hampshire (57.3 percent)
Tennessee (57.2 percent)
Oregon (57.1 percent)
Washington (57.0 percent)
Alabama (56.5 percent)
New Mexico (56.0 percent)
Washington D.C. (55.7 percent)
OUTBOUND:
West Virginia (61.7 percent)
Wyoming (61.4 percent)
Illinois (61.2 percent)
New York (61.0 percent)
Connecticut (59.9 percent)
Louisiana (58.2 percent)
Nebraska (58.1 percent)
Kansas (57.4 percent)
South Dakota (56.9 percent)
New Jersey (56.7 percent)
You can read more on Atlas' full report here.
Comments
comments