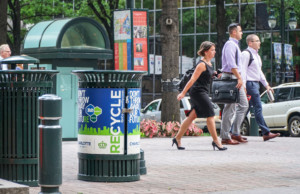 It's the most wonderful time of the year — and the trashiest, too.
Between Thanksgiving and New Year's, Americans throw away 25% to 43% more trash — or up to 29 pounds of extra garbage per week. That nearly doubles the 34.3 pounds each person already discards in a typical week.
But which states do the finest job of cleaning it all up, responsibly?
With the holiday season in full swing, LawnStarter ranked 2022's Best States at Managing Waste.
They compared the 50 states and the District of Columbia based on their waste-reducing policies and infrastructure. They then weighed those factors against the amount of refuse that was landfilled or reused, among other key indicators of waste-management excellence.
How does North Carolina stack up?
North Carolina's Rank for Some Key Metrics (1 = Best)
Presence of Mandatory Recycling Laws – 1st
Recycling Facilities per 100,000 Residents – 9th
Share of Production-Related Waste Recycled – 12th
Tons of Waste in Landfills by State Surface Area – 31st
Do you agree with the report? 
Comments
comments