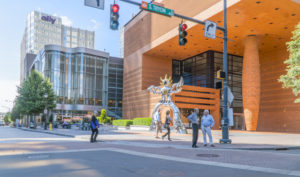 The State of North Carolina has just been ranked as America's #1 state for business in 2022.
According to CNBC's annual state competitiveness ranking, the Tar Heel state edged out the #2 state of Washington with superior Infrastructure, Cost of Doing Business, Economy, and Business Friendliness scores. Since the annual ranking first started in 2007, we've usually finished in the top 10, but this is the first year we came out on top.
"North Carolina is proud of its economic success that continues to garner national recognition like being CNBC's Best State for Business," said NC Commerce Secretary Machelle Baker Sanders. "Last year, we announced more than 24,000 new jobs and investments exceeding $10.1 billion from future-focused companies in fields like biotechnology, computers, and electric vehicles. There are many factors for our success, including our central East Coast location, premier quality of life and low cost of business, but our greatest asset is our diverse and highly-skilled workforce that is supported by our top-rated education system. We will continue to focus on creative partnerships for talent development as we evolve to meet the demands of existing, new, and future employers like Apple, Toyota, and FUJIFILM that call North Carolina home." 
To determine the ranking of the states, CNBC analyzed 88 metrics across 10 different categories of competitiveness. Each category was then weighted based on how frequently states use them as a selling point in economic development marketing materials (you can read the full methodology here).
While North Carolina came out on top, South Carolina was ranked among the bottom half, coming in at #36 overall.
AMERICA'S TOP STATES FOR BUSINESS 2022
OVERALL RANK
STATE
WORKFORCE
INFRA-STRUCTURE
COST OF DOING BUSINESS
ECONOMY
LIFE, HEALTH & INCLUSION
TECHNOLOGY & INNOVATION
BUSINESS FRIENDLINESS
EDUCATION
ACCESS TO CAPITAL
COST OF LIVING
1
North Carolina
12
17
26
1
28
5
22
14
2
22
2
Washington
4
29
33
3
6
2
31
17
20
38
3
Virginia
11
9
25
20
13
17
6
2
6
30
4
Colorado
1
16
36
11
12
9
16
11
22
34
5
Texas
2
14
12
8
49
4
34
21
3
14
6
Tennessee
15
8
8
2
42
28
23
11
22
5
7
Nebraska
32
22
16
13
7
24
12
24
32
19
8
Utah
8
32
17
6
29
26
10
41
12
25
9
Minnesota
21
4
41
16
5
6
32
15
13
26
10
Georgia
3
11
38
7
39
12
32
10
13
4
11
Florida
6
13
30
4
39
16
39
19
22
27
12
Iowa
20
37
19
17
10
18
28
24
29
7
13
North Dakota
31
21
21
37
4
35
1
26
34
24
14
Indiana
48
1
2
10
43
23
18
35
13
9
15
Ohio
41
2
4
27
29
11
43
22
3
12
16
Michigan
26
19
9
21
29
15
20
27
11
12
17
Pennsylvania
28
12
22
45
22
7
26
5
9
32
18
Oregon
9
33
34
15
8
13
46
32
26
46
19
Illinois
26
3
31
44
23
8
40
6
8
20
20
Idaho
40
42
15
5
20
34
3
48
34
31
21
Kansas
35
6
6
43
29
38
17
20
19
2
22
South Dakota
43
36
11
12
27
36
8
39
10
29
23
Wisconsin
37
15
13
30
35
19
38
15
32
23
24
Massachusetts
24
31
49
26
13
10
21
1
6
47
25
Missouri
49
10
1
17
46
19
36
27
29
6
26
Kentucky
17
18
6
34
36
22
42
39
38
17
27
Maryland
10
22
44
31
18
14
29
18
13
44
28
Delaware
5
20
37
22
24
32
26
42
13
36
29
California
16
25
48
17
26
1
48
11
1
48
30
Montana
33
45
27
9
24
46
5
33
38
28
31
Vermont
50
22
39
33
1
37
14
8
45
41
32
Wyoming
18
35
23
40
20
40
2
29
45
20
33
Alabama
13
38
24
27
38
21
25
34
34
3
34
Arizona
7
6
35
22
50
29
4
42
41
33
35
New Hampshire
22
47
32
29
15
39
8
6
48
37
36
New York
46
28
42
36
19
2
44
4
5
49
36
South Carolina
29
27
28
13
47
31
23
29
41
18
38
Oklahoma
35
26
2
34
48
30
14
47
22
14
39
Connecticut
14
39
45
47
17
25
11
8
26
43
39
Nevada
29
5
20
25
41
47
7
50
26
35
41
Arkansas
38
30
13
24
37
40
29
37
20
10
42
New Jersey
23
34
43
50
8
27
47
3
13
40
43
Maine
43
49
40
32
2
44
19
23
47
39
44
West Virginia
43
42
10
39
34
49
49
44
38
8
45
Rhode Island
39
44
47
41
16
33
36
29
29
42
46
Hawaii
19
39
50
48
3
40
35
38
49
50
46
New Mexico
25
39
29
42
44
43
44
45
41
11
48
Louisiana
42
48
5
45
45
45
41
35
37
16
49
Alaska
34
50
46
38
11
50
12
49
49
45
50
Mississippi
47
46
17
49
33
48
50
Comments
comments