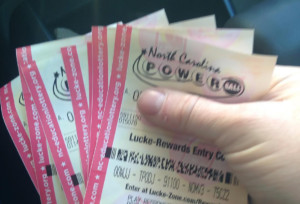 Clay County resident Donald West finally got around to checking his Powerball ticket and discovered he was a winner.
On the 16th of August, Powerball officials announced that the jackpot had been won and that the winning million-dollar ticket was sold in Hayesville, but remained unclaimed. West, 63, saw the announcement and it reminded him that he hadn't checked his regular Powerball numbers as he usually did. To his great surprise, and at odds of one in 11.6 million, West had landed all five white ball numbers from the Monday draw.
A $2 Quick Pick ticket resulting in a $1 million prize is a dream come true for many, but what actually happens when you win the lottery?
Make a claim
More and more people are making gambling a regular pursuit as gambling regulations and restrictions are loosened, to allow people to place a bet with many different online casinos. For example, prolific online gambling brands are generously tempting and a growing number of folk enjoy playing slots or classic casino games such as roulette and blackjack on mobile phones as a form of casual entertainment.
The online casino offers at Paddy Power and others, including today's multipliers and progressive jackpots, mean that online casino wins can be life-changing. However, only a few of us will experience the thrill of winning millions of dollars.
We have all dreamed of hitting it big with a lottery win, but before buying a luxurious mansion or supercar, there's a lot to do. The first thing you'll need to do is claim your prize and while Donald West was only around a week late claiming his win, there are limits within each state ranging from 90 days to 12 months. 
Red tape
You'll need to compose yourself and make the call to the relevant state lottery bureau and inform them that you have a winning ticket. Some recommend contacting your financial advisor or attorney before you start the process of verifying your identity and discussing the logistics of receiving your winnings. That first phone call is partly about asking simple questions to confirm you are correct and that you're due to receive a huge amount of money, but also about your well-being, as you'll probably be in shock and not capable of making rational decisions. 
A convenient appointment will be made to complete the relevant paperwork and most states will provide the option of expert advice to both manage the financial change and the mental health aspect, as your life has just changed enormously. In terms of going public, people have very different approaches with some screaming from the rooftops to let everyone know they're a winner, while others make meticulous plans before even making that first phone call. 
In some states, there is a condition of play that allows the identity of winners to be revealed for publicity purposes, but a growing number of states recognise that winners should have the option of remaining anonymous. 
Show me the money
If you are a Powerball winner, you get to decide if you are delivered a one-off lump sum of the full amount or if annual instalments over 30 years work better for you. Don't forget that the taxman needs his cut and after taxes, Donald West will take home a cool $710,100.
Once all the t's have been crossed and i's dotted, believe it or not, some winners struggle to spend their newfound wealth. Generally, for big wins, a millionaire concierge service will be recommended and the winners will jet off to a glamorous location to figure out how they're going to proceed now they're rich. Sometimes new winners are able to meet with previous winners and get some advice, or simply have a chat with someone who has experienced something very few will ever understand. You could also consider these Buzzfeed horror stories and try not to make the same mistakes.   
Hopefully, Clay County's Donald West will find this win has changed his life for the better and good luck to everyone else hoping to emulate his success.
Comments
comments