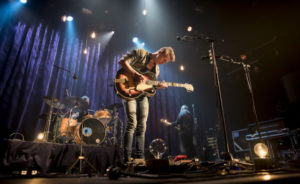 The North Carolina Department of Natural and Cultural Resources (NCDNCR) has just announced plans to partner with Hometown Strong and Sound Diplomacy to launch a brand new state-wide initiative – the North Carolina Music Friendly Communities program.
Three cities spread out across our state have been chosen to be part of the pilot program's first year: Durham, Shelby, and Elizabeth City.
The goal of the program is to develop strategies that strengthen the music-based economies of these pilot cities and eventually designate each city as a North Carolina Music Friendly Community. Local committees will be formed in each city to help steer the program, take inventory of music-related assets, engage stakeholders, review policies, and identify ways to best support the local music industry. Sound Diplomacy, a consultancy firm and global expert in developing music strategies for cities, will provide guidance for each community's work.
"Music is universal in North Carolina, regardless of where you live in the state," said NC Hometown Strong director Mary Penny Kelley in a press release. "A vibrant music industry can support job creation, attract culturally diverse talent, and enhance tourism across the state. The Music Friendly Communities Program aims to help North Carolina communities leverage their music-related assets for continued economic expansion."
The pilot program is building on the work of the Come Hear NC program, which was established in 2019 to celebrate, support, and sustain North Carolina's contributions to American music. Over 40,000 North Carolinians are employed in the music industry and many more enjoy the art that it produces.
Hometown Strong is an initiative created by Governor Roy Cooper to support small towns and communities across the state. This initiative leverages state and local resources, identifies ongoing projects and community needs, and implements plans to boost the economy, improve infrastructure, and strengthen North Carolina's rural hometowns.
What do you think about the new program?
Comments
comments