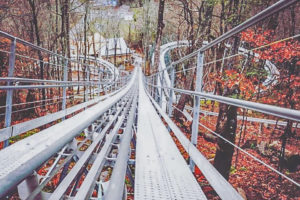 North Carolina has just officially opened our state's very first 'alpine coaster' – an awe-inspiring mountain-side roller coaster ride.
The new 'Wilderness Run Alpine Coaster' features 2-person carts that wind through trees, over rocks, and around 360-degree loops on over 2,160 feet of track at speeds up to 27 MPH. The coaster is just slightly longer than the legendary Canyon Flyer Coaster, America's first alpine coaster which opened in 2014 (there are currently just 34 alpine coasters in the entire United States).
Here is a video from some of the coaster's first riders this past weekend:
The new Wilderness Run Alpine Coaster is located along NC 184 at 3229 Tynecastle Highway in Banner Elk, about 2 hours Northwest of Charlotte.
Comments
comments