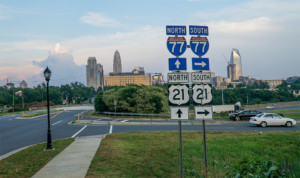 The North Carolina Turnpike Authority was chosen among over 60 different applicants to be a major test site for self-driving cars.
The NC Turnpike Authority was formed in 2002 to oversee toll road projects across the state. They currently oversee the Triangle Expressway, Monroe Expressway, I-77 Express Lanes, I-485 Express Lanes, and the U.S. 74 Express Lanes.
The 10 organizations that were approved to test the safety of automated vehicles include:
City of Pittsburgh and the Thomas D. Larson Pennsylvania Transportation Institute
Texas AV Proving Grounds Partnership
US Army Aberdeen Test Center (Maryland)
American Center for Mobility at Willow Run (Michigan)
Contra Costa Transportation Authority and GoMentum Station (California)
San Diego Association of Governments
Iowa City Area Development Group
University of Wisconsin-Madison
Central Florida Automated Vehicle Partners
North Carolina Turnpike Authority
"The federal role in these sectors is still in its infancy. We want to work with Congress to position the federal government as a catalyst for safe, efficient technologies, not as an impediment," noted Transportation Secretary Elaine Chao in a recent statement.
The new movement has grown so quickly that famed attorney Alex Glassbrook has now written an book on driverless car laws.
Although North Carolina has now been selected, it's still to be determined which roads will test the self-driving cars and when the testing might begin.
You can find out more details about the self-driving designation areas here at www.transportation.gov/AV.
Comments
comments