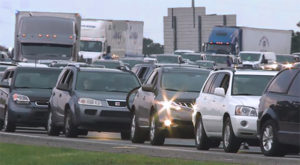 North Carolina's highway system ranks 17th in the nation in overall cost-effectiveness and condition, according to the Annual Highway Report published today by Reason Foundation. This is down slightly from the previous report, where North Carolina ranked 14th overall, and mostly due to the state's rural highway fatality rate, which ranks 49th out of 50 states.
In highway safety and performance categories, North Carolina ranks 30th in overall fatality rate, 34th in structurally deficient bridges, 23rd in traffic congestion, 15th in urban Interstate pavement condition and 20th in rural Interstate pavement condition. On spending, North Carolina ranks 5th in total spending per mile and 6th in capital and bridge costs per mile.
"To improve in the rankings, North Carolina needs to reduce its rural fatality rate and its percentage of deficient bridges. The state ranks 49th in rural fatality rate. Compared to nearby states, the report finds North Carolina's overall highway performance is better than South Carolina (ranks 20th), but trails Virginia (ranks 2nd), Kentucky (ranks 5th) and Tennessee (ranks 7th)," said Baruch Feigenbaum, lead author of the Annual Highway Report and assistant director of transportation at Reason Foundation.
North Carolina's best rankings are in total disbursements per mile (5th) and capital and bridge disbursements per mile (6th). North Carolina's worst rankings are rural fatality rate (49th) and structurally deficient bridges (34th).
North Carolina's state-controlled highway mileage makes it the 2nd largest highway system in the country.
Utilizing data that states submitted to the federal government, Reason Foundation's 24th Annual Highway Report measures the condition and cost-effectiveness of state-owned roads in 13 categories, including pavement condition on urban and rural Interstates, deficient bridges, traffic fatalities, administrative costs, and spending per mile on state roads.
North Dakota ranks first in the Annual Highway Report's overall performance and cost-effectiveness rankings for the second year in a row. Virginia and Missouri, two of the 20 most populated states in the country, are second and third in overall performance and cost-effectiveness. Maine and Kentucky round out the top five states.
The highway systems in New Jersey (50th), Alaska (49th), Rhode Island (48th), Hawaii and Massachusetts rank at the bottom of the nation in overall performance and cost-effectiveness.
The full Annual Highway Report, complete rankings in each category, and historical data from previous editions are available here:
https://reason.org/policy-study/24th-annual-highway-report/ 
https://reason.org/wp-content/uploads/24th-annual-highway-report-2019.pdf
North Carolina's Complete Results
Ranking (out of 50 states)
Overall Rank (*see explanation below): #17
Overall Rank in Previous Report: #14
Ranking in Each Category 
Total Disbursements per Mile – #5
Capital-Bridge Disbursements per Mile – #6
Maintenance Disbursements per Mile – #9
Administrative Disbursements per Mile – #10
Rural Interstate Percent in Poor Condition – #20
Urban Interstate Percent in Poor Condition – #15
Rural Other Principal Arterial Percent in Poor Condition – #23
Urban Other Principal Arterial Percent in Poor Condition – #18
Urban Area Congestion* – #23
Structurally Deficient Bridges, Percent* – #34
Overall Fatality Rate – #30
Rural Fatality Rate – #49
Urban Fatality Rate – #13
Comments
comments