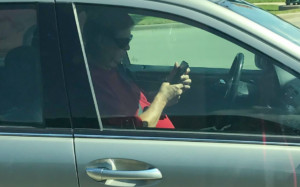 Ever since the advent of cellular phones, and smartphones, in particular, state and local governments all over the country have been puzzling over what to do to prevent phone-related distracted driving deaths. In recent years, much of the debate has centered on texting while driving, since it's an obvious example of an activity that's incompatible with safe driving. That's why several states, including North Carolina, now have laws banning texting while driving, including severe penalties for those that violate the law.
Texting, however, isn't the only cellphone-related activity that can distract a driver. Talking on the phone while driving, although it doesn't always take the driver's eyes off the road, does slow down reaction times and makes it much more difficult for the driver to monitor ever-changing traffic conditions. It's no small problem, either. According to some estimates, cellphone-related distraction causes one in four traffic accidents in the US each year.
Here in North Carolina, the problem is especially severe. Over the past several years, there's been a pronounced increase in distracted driving crashes and fatalities all across the state, with public awareness campaigns seeming to have little impact on the problem. Now, the state legislature appears poised to take action to end the menace once and for all.
In late February, Representatives Corbin, Torbett, Hardister, and Pierce introduced a new bill, HB 144, which would make talking on the phone while driving explicitly illegal statewide. The proposed law would introduce an escalating series of fines and punishments for drivers caught violating the ban, including adding insurance points to the driving records of repeat offenders.
The law would also include exceptions for drivers that use hands-free devices such as Bluetooth headsets and dashboard phone mounts, so it wouldn't amount to a complete prohibition of cellphone use while driving. It also won't apply to drivers making calls while parked or off of the roadway. In that way, the bill mirrors similar legislation that has passed in other parts of the country.
That's a good sign when you consider that similar bans have had good success in other states in reducing distracted driving and preventing accidents and fatalities. In Illinois, a near-duplicate of the North Carolina proposal has worked especially well. According to the Ankin Law Office, a local firm that specializes in auto accident related cases, "The law is working and there has been a considerable drop in the number of fatalities over the past year. In 2014, the state experienced 685 fatalities by this time, whereas this year it has decreased to 636. Further, the number of accidents is decreasing as well, to just under 290,000 across the state."
If the proposed bill becomes law here in North Carolina, it would take effect in January of 2020. Drivers would then have a grace period that lasts until July, during which officers would only issue warnings for violating the law, with citations beginning afterward. State troopers insist that they're ready to enforce the new law if it passes, noting that they've had plenty of experience already in spotting drivers that are distracted due to cellphone use. The law would merely give them the tools to stop distracted drivers before they hurt themselves or others.
The bottom line is that it looks as though the days of North Carolina roads being inundated with drivers that have their minds on everything but the road may be nearing a merciful end. It comes too late for scores of state residents who have already suffered injuries or lost loved ones due to distracted drivers, but it should provide some comfort in knowing that more won't be joining their ranks.
Comments
comments