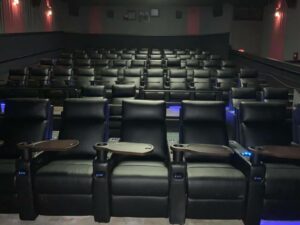 A new fully-stocked restaurant/movie theater concept will be opening in Charlotte this coming Spring.
Cinergy Dine-In Cinemas just announced plans to build a sprawling 10-screen theater complex with a full restaurant and stocked bar halfway between University City and the Northlake Area at 5336 Docia Crossing Road:
"We couldn't be more excited to expand to Charlotte this year," says Traci Hoey, Vice President of Marketing. "With so many businesses being closed due to Covid, it is special to be able to restore a wonderful entertainment venue for friends and families to come back together."
The company has now started hiring team members at http://www.cinergy.com/careers. Cinergy Charlotte will be located at 5336 Docia Crossing Road and is expected to open in April of 2022.
Comments
comments