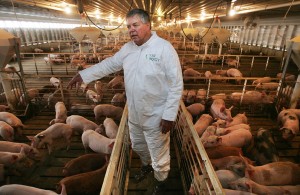 Plans for a long-anticipated biogas plant to help power homes supplied by Duke Energy are now back on track. Methane from hog excrement will be extracted from the waste and funneled into pipelines, powering some 8,000 North Carolina homes.
According to Boulder's Daily Camera, this is how the process will work:
"Anaerobic digesters at the plant will convert waste materials sourced from area food producers into biogas, a sustainable and renewable energy product. The gas will then be injected into the Piedmont Natural Gas pipeline system and delivered to Duke Energy for electricity production to serve its customers in North Carolina, the release stated."
Plans for the plant were originally proposed in 2016, but the company leading the charge (Carbon Cycle Energy, or C2e) struggled to secure finances for the project. They've worked out the kinks needed to satisfy investors – mainly locking down the technology – and construction is set to begin in March 2019, becoming operational in 2020. C2e, based in Boulder, CO purchased lands near Warsaw, NC (Duplin County, just east of Fayetteville) to construct the plant.
The original project was expected to cost $100 Million, and produce at least 2.4 million dekatherms of natural-gas quality methane each year, powering 100,000 homes. The current project will be smaller, producing 1.8 million dekatherms, powering 8,000 homes.
Duke Energy will purchase all of the biogas produced by the facility, helping them meet North Carolina's Renewable Energy Portfolio Standard (REPS) regulations.
This will be the first hog excrement power plant built by C2e.
Comments
comments