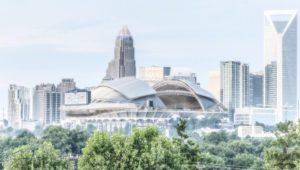 After over a year of speculation, new Panthers' owner David Tepper indicated that he's leaning toward renovating the current stadium instead of relocating or building a new one.
Yesterday afternoon, Tepper spoke the media after a charity event at Bank of America Stadium where he made a $120,000 gift to CMS. He talked about using the stadium for a wider array of events, including concerts, more charity events, and specifically, 'the Final Four'.
Governor Roy Cooper met with Tepper last week and said he talked with the new owner about potentially hosting the major basketball tournament.
Tepper stated that he would "like to put a roof" over the Uptown Stadium in order to make that happen.
"I've said it before — but I would love if we could ever do it to get people to support it — to put some sort of roof in here and have a Final Four in North Carolina," Tepper told reporters.
RAISE THE ROOF? As only he could, David Tepper drops a tease on the way out…

How do you feel about a Final Four at Bank of America Stadium? @wsoctv pic.twitter.com/fzZdEaQl9Z

— DaShawn Brown (@DaShawnWSOC9) February 5, 2019
It's unclear at this point how serious Tepper was in his comment, as the 24-year-old stadium has always been an outdoor stadium and the changes a roof may require an unreasonable amount of redesign.
What do you think about putting a roof on Panthers' Stadium? 
Comments
comments