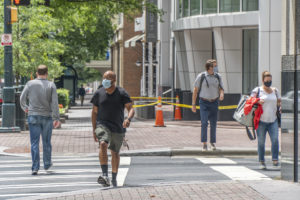 A new indoor mask mandate goes into effect today for the city of Charlotte as Covid-19 case numbers continue to rise across our region.
The mandate officially states:
"Face coverings will be required in indoor public places, regardless of vaccination status. The proclamation goes into effect TODAY, Aug. 18, at 5 p.m., and will be in effect through Sept. 1, unless sooner rescinded or terminated."
The mandate also notes the following exemptions (you are not required to wear a mask if any of the following apply to you):
Should not wear a Face Covering due to any medical or behavioral condition or disability (including, but not limited to, any person who has trouble breathing, or is unconscious or incapacitated, or is otherwise unable to put on or remove the Face Covering without assistance);
Is actively eating or drinking;
Is seeking to communicate with someone who is hearing-impaired in a way that requires the mouth to be visible;
Is giving a speech or performance for a broadcast, or to an audience, where they maintain a distance of at least 20 feet from the audience (the audience is still required to wear a Face Covering if indoors);
Is temporarily removing their Face Coverings at work, as determined by local, state, or federal regulations or workplace safety guidelines;
Has found their Face Covering is impeding visibility to operate equipment or a vehicle.
The mandate was first announced on Monday by Charlotte Mayor Vi Lyles after talking through possible options with local health officials.
"I've spoken with George Dunlap and Gibbie Harris and I support their approach to create a county-wide mask mandate, which would create a consistent policy across Mecklenburg County and reduce confusion among our residents. The soonest this could go into effect would be 12 days from today, so in partnership with George Dunlap and Mecklenburg County, I am instituting a mask mandate that will go into effect on Wednesday, August 18 and will bridge the gap between Wednesday and when a county-wide mandate could go into effect," said Mayor Lyles in a statement.
We must do all we can for ourselves & our fellow men, women, & children to fight COVID-19. A road back to normalcy can be an actual reality if we simply ban together & do everything in our power to get this virus under control. Wear a mask & get the vaccine if you're able to. pic.twitter.com/EiCBH3A7kq

— Mayor Vi Lyles (@CLTMayor) August 17, 2021
Mecklenburg County Health Director Gibbie Harris gave a full update on the state of the crisis on Monday when the new mask mandates were first announced:
County Manager Dena R. Diorio, Public Health Director Gibbie Harris and others provide an update on COVID-19 in Mecklenburg County. https://t.co/fQ6gFtQbVa

— Mecklenburg County (@MeckCounty) August 16, 2021
Mecklenburg County will be holding a special public meeting to today to hear from the public and determine if they will be implementing a similar mask mandate for the entire county.
#MeckBOCC will hold a special meeting at 3 p.m. tomorrow (8/18) to discuss a recommendation to require masks indoors. Members of the public can sign up to speak in person or online » https://t.co/nxlXSmxD7I pic.twitter.com/mA3vB13vVg

— Mecklenburg County (@MeckCounty) August 17, 2021
What do you think about the new mask mandates?
Do you think more should be done to slow the spread of Covid?
Comments
comments