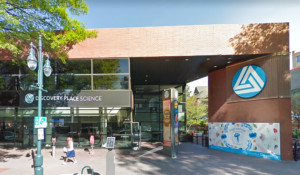 Put on your thinking caps, because two new experiences are coming to Discovery Place Science!
The Museum just announced that the exhibition space on Level 3 of the Museum will be closed to the public for the installation of Think It Up. This new exhibition will complete the Level 3 renovation, which includes the maker lab, Thinker Space.  The full experience will be celebrated with a grand opening on Saturday, August 26.
Made possible through the support of Lowe's as Founding Sponsor, Think It Up and Thinker Space are inspired by the fundamental human desire to make and create. These new hands-on spaces will provide a platform for learners to collaborate, share ideas and develop fresh skills, while exploring new materials, tools and processes to inspire design thinking.  Guests will have the unique opportunity to test ideas, take risks and persevere through challenges.
"Lowe's understands the importance of cultivating young minds through hands-on learning, which is why we've funded several STEM grants at schools across the country," said James Frison, director of community relations at Lowe's. "In North Carolina, we've supported a robotics team in Iredell County and converted an everyday classroom space into a STEAM lab on the coast. We can't wait to see how this space will encourage new collaboration and creativity in Charlotte."
Earlier this year, the entirety of Level 3 at Discovery Place Science was transformed from meeting space into a 5,000 sq. ft. bright canvas for a state-of-the-art hands-on, minds-in exhibition and lab. Funds for the renovation were generously provided by The City of Charlotte, who owns the Discovery Place Science facility.
Think It Up is a re-imagination of the popular Discovery Place Science exhibition of the same name formerly located on Level 2 of the Museum. New and updated exhibits will allow guests to experiment, collaborate and learn-by-doing through fabrication stations and interactive experiences that provide visitors with opportunities to engage with both DIY (do-it-yourself) and DIT (do-it-together) projects.
Earlier this year, Thinker Space opened in Beta mode to test new curriculum and activities with guests. This interactive maker lab encourages guests to take risks and experiment with new tools and materials to create something from scratch. Guests can follow along with facilitated building prompts or make their own design using tools (from simple hand saws to advanced 3D printers) and resources (metal, wood, wires, microchips, etc.) to hand-craft unique creations.
"We are excited to provide a place in the Museum where visitors of all ages can innovate and invent," said Catherine Wilson Horne, Discovery Place president and CEO. "We are lucky to have a partner like Lowe's who understands the importance of learning by doing and who was ready to support us as we created a space for that to happen."
Here'a a look at Charlotte's first 'maker space' – the Idea Box in the Charlotte's Uptown Library branch;
Think It Up and Thinker Space are included with Discovery Place Science admission. Discovery Place Science admission is $17 for adults (14-59); $13 for children (2-13); $15 for seniors (60+); and free for Discovery Place Science Members and children younger than 2, plus tax. IMAX® tickets may be added for an additional $5 per person. Discounts are available for groups of 15 or more. Children age 13 and younger must be accompanied by a responsible adult while in Discovery Place.  Guests can purchase tickets online at science.discoveryplace.org., via phone at 704.372.6261 or in person.
Comments
comments