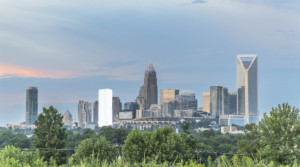 A new flagship banking tower is coming to Uptown Charlotte, forever changing our skyline, and pushing our CBD (central business district) even further west.
F.N.B. Corporation (NYSE: FNB), the parent company of First National Bank, just sent out a press release to announce the new tower. The 31-story mixed-use tower will be developed by Dominion Realty Partners (DRP), and will be located at 401 South Graham Street, between the BB&T Ballpark and the Bank of America Stadium.
FNB Tower-Charlotte will become the new regional headquarters of First National Bank. The high-rise will feature over 160,000 square feet of Class A office space, 215 Luxury Class A residential apartment units, and street-level retail space anchored by the new flagship FNB branch.
When complete, FNB will occupy roughly 30,000 square feet of office space with additional options to expand to accommodate future growth.
"FNB's continued growth puts us in an exciting position to participate in projects that contribute to economic expansion in the markets we serve," said Vincent J. Delie, Jr., Chairman, President and Chief Executive Officer of F.N.B. Corporation and First National Bank. "FNB Tower-Charlotte will provide our local teams with a centralized base to collaborate, share experiences and engage with the community, which enables us to even better serve our clients and the neighborhoods we call home."
Delie added, "We are thankful that the cities of Charlotte and Raleigh are willing to work with developers to produce new projects that allow companies like FNB to continue to grow in our southeastern markets."
DRP Chairman and CEO Andy Andrews commented, "We look forward to delivering Charlotte's newest tower in this extremely visible and marquee location." FNB Tower-Charlotte will be DRP's third recent large-scale project in the Charlotte market, and its second downtown high-rise tower development with FNB as the anchor tenant. "This location is surrounded by all of the growth and activity of Uptown Charlotte, and we look forward to enhancing the Charlotte skyline with this efficient and innovative high-rise development," stated Beau McIntosh, DRP Managing Director.
FNB Tower-Charlotte is expected to be completed sometime in late 2020.
Comments
comments