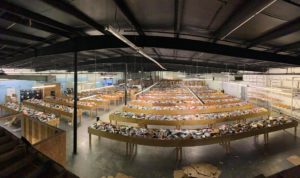 A new store close to Charlotte is selling overstocked Amazon products for $1-$5 each (and even cheaper during their 'fill-a-bag' sales) – many items which have an MSRP of $100+, including YETI thermoses, headphones, drones, high-end makeup, heavy duty dog doors, and more.
Bin Time is located at 129 W. Butler Rd, Mauldin, SC, near Greenville and a little over an hour southwest of Charlotte.
The prices of the items change each day they're open, Saturday and Sunday, items are $5 each, Monday they're $2 each, and Tuesday they're $1 each. Each Saturday morning, they received a new shipment from Amazon and refill all of their bins.
In order to keep the peace and sanity among passionate deal seekers, the store strictly enforces the following rules:
1. No book bags or large purses permitted.
2. Children under 16 years of age must be accompanied at all times and are not permitted in the bins. Zero exceptions.
3. Large bags will be provided. No personal bags, carts, or baskets will be permitted.
4. Only one bag of goods per person. You may check out and return to the sale as many times as you like.
5. No stockpiling or sorting items on the floor or anywhere else in the building. This is a safety issue and will be strictly enforced. Only take goods that you intend to purchase.
6. No merchandise is permitted in restrooms.
7. No pushing, running, yelling, grabbing or unruly behavior will be tolerated.
8. Opening boxes or any other packaging is not permitted. Please see an associate if you need assistance with identifying an item.
9. No line jumping or holding spots for someone else.
10. Cash and Credit Cards are accepted.
11. NO RETURNS – EXCHANGES – REFUNDS
Some days (like today) they offer what's called a 'fill-a-bag' sale, where shoppers can fill an entire bag and buy everything inside for just $10.
You can find out more and watch for special 'fill-a-bag' deal days on their Facebook page here.
You can also browse what Amazon has in overstock before they send it to Bin Time on their overstock page here.
Comments
comments